West Volusia's Original Hometown Newspaper
By GUY MYSTERY
Intrepid Reporter



  The DeLand Sun News was first published in 1876. After 115 years of operation, it was bought out by a competing paper in 1991. Publication was halted by 1992.
  This situation persisted until 2007, when the brand was revived online as a monument to this cherished local institution.
  Welcome to DeLand Sun News - the Internet Edition. Constantly updated DeLand area news, as well as US and World News, Sports and Lifestyle sections. News links appear below.
  This website makes use of automated links, it is not actively curated. If the links go bad, please send us an email and we will update the code.

 

If you love the DeLand Sun News, let everyone know! Buy some cool merchandise at our

online store

!

Got a local scoop or a nice photo?

Contact us

.

Other DSN Links DeLand Sun News - The Blog Answers to Reader Emails              The DSN Store - Coffee Mugs, T-shirts and much more!
Spotlight: Historic Athens Theater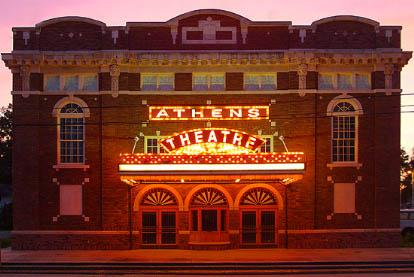 The Athens Theatre is one of the few existing examples of a classic American theatre in Central Florida. Once the centerpiece of DeLand, the Athens Theatre is a jewel of Italian Renaissance architecture. This historic theatre was designed in 1921 by prominent Orlando architect Murray S. King and first opened its doors on January 6th, 1922. On January 5th, 1922, the eve of the theater's opening, the DeLand Daily News declared the Athens to be "Florida's Handsomest Theatre" and "a gem of architecture". The theatre's name was derived from the vision of DeLand's founder, Henry DeLand, who sought to create a city that would be the "Athens of Florida".

Visit their website

.





Got a local scoop or a nice photo? Contact us.